B.A.S.I.C Training - Building & Achieving Success in Idaho Chapters
---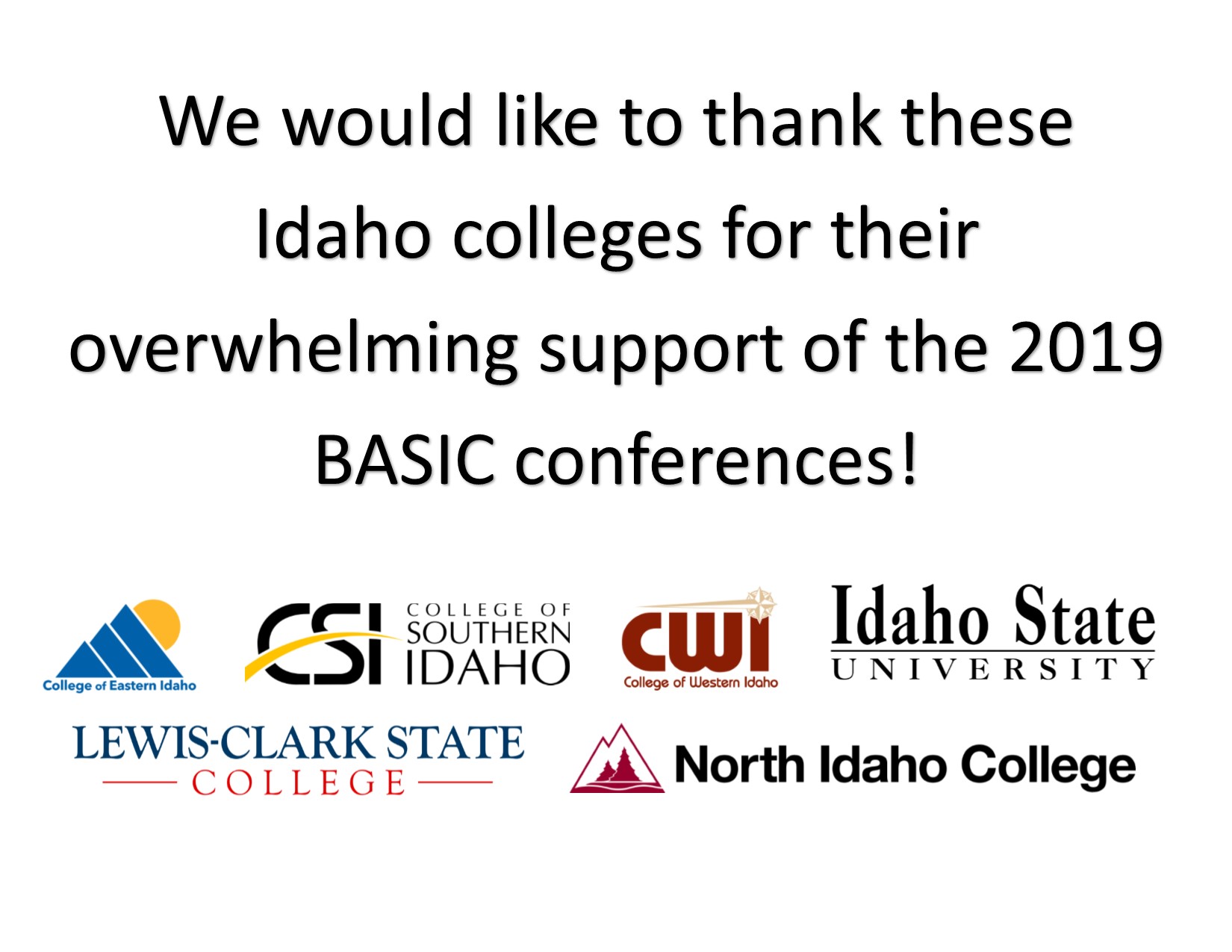 Dates for the 2019 BASIC Trainings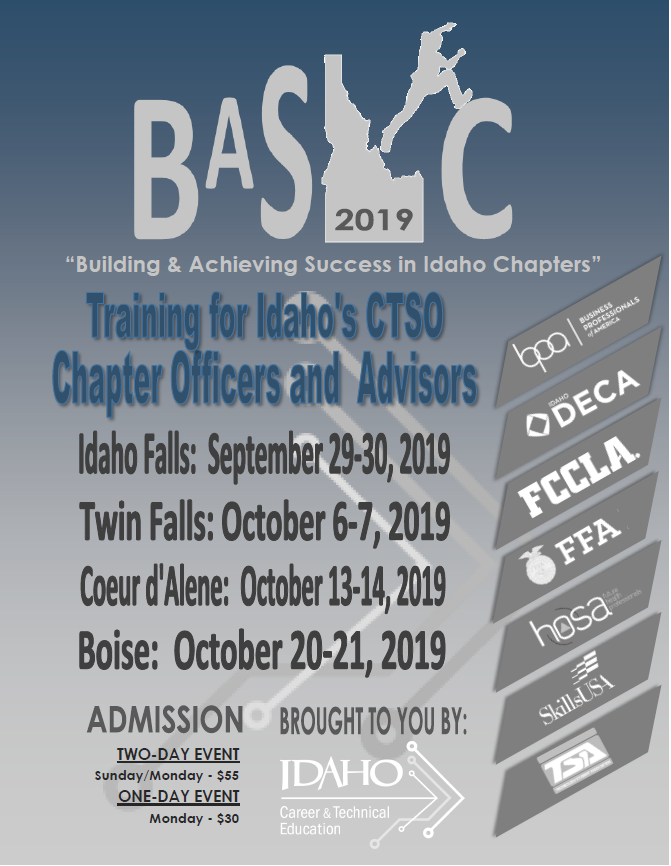 Building & Achieving Success in Idaho Chapters (BASIC) Training was developed on a statewide level to equip Career & Technical Student Organization (CTSO) chapter officers with the skills to be great leaders. All secondary and postsecondary Idaho chapter officers from Business Professionals of America (BPA), DECA, Family, Career and Community Leaders of America (FCCLA), FFA, HOSA, SkillsUSA, and Technology Student Association (TSA) are invited to participate.
This conference offers two packages to fit chapter schedules and budgets. Chapters can choose between a two-day option for $55 and a one-day option for $30.
The first day will offer training and opportunities for chapters looking to strengthen their officer team. For those joining the 2nd day, the day will begin with all officers receiving leadership training from our guest presenter. During that time, advisors will receive training on intracurricular integration, fundraising strategies, and program development. After lunch the second day, each CTSO will join their chapters and receive specific training designed by their state officers. This training will include a focus on running effective meetings, competitive events and awards participation, national programs, team building, and program of work development.
Package A
Two-day BASIC Training
Price: $55/participant
3:00 PM - 8:00 PM
Includes:
Sunday Team Activities (includes dinner)
Monday Conference (includes lunch)
Conference Give-Aways
Package B
One-day BASIC Training
Price: $30/participant
8:00 AM - 3:30 PM
Includes:
Monday Conference (includes lunch)
Conference Give-Aways
---
Dress Code for BASIC
---
Sunday Dress Code:
Casual Attire: Casual slacks, shorts, jeans, CTSO t-shirts, athletic wear and tennis shoes
Monday Dress Code:
Business Casual or Official Attire: For Monday meetings, business casual means comfortable clothing that you could wear to work in a business office; like dresses or khakis and polo shirts. No denim, no t-shirts (not even student organization t-shirts). Head covers that are required for health reasons, religious purposes, or to honor culture.
Unacceptable Attire:
Skin-tight/ Revealing clothing / Midriff-baring clothing
Extremely short shirts (shorter than 2 inches above knee)
Clothing with obscene, illegal, or potentially offensive content
Swimwear / Beachwear / Flip Flops (unless at the pool)
Nightwear / Pajamas (should never be worn outside hotel room)
---
BASIC FAQs
---
Why are you holding it on a Sunday/Monday?
While planning BASIC Training we kept in mind that the beginning of the school year is the optimal time to set chapters up for success, as fall sports and activities are predominantly at the end of the week and on weekends. We are aware that time spent out of classroom is precious and needs to be purposeful. Using a Sunday evening and all day Monday allows teachers and students more flexibility, allows chapter officers to take their knowledge back and train their chapter within the same week, and reduces conflicts with fall sports, academics, and activities. Having the event in off-peak times also allows for a reduction of financial impact for facilities and hotels, making it possible to keep the cost of this event manageable for students.
What if I don't want to participate in the activities?
Participation in team activities are intended to strengthen you and your team. Not all activities require physical strength, most are strategic thinking and problem solving. Activities are not required; rather, they are encouraged to increase team cohesiveness.
Will this come out of my chapter funds? What if I can't afford to participate?
This event can be paid for by chapter funds. Discuss this cost with your chapter advisor to see what funds are available. First discuss this fee with your advisor to see what fundraising opportunities are available. Then seek a sponsorship from your principal. Some schools have funds set aside for trainings such as this. Next contact your CTSO Manager at ICTE to see if your organization has scholarships available.
My student organization is unique. How will my students benefit from a group training?
We understand the each CTSO has a unique purpose and culture. Our goal is to provide the same opportunities to all CTSOs while still maintaining each individual organization's goals and purpose. The training will be run by experienced CTSO leaders and the individual CTSO State Officers. Each organizations agenda is designed by their perspective officers and tailored to fit their needs.
Questions?
Please email us!